Turbo Sifter Sleeves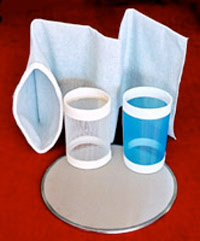 A wide range of turbo sleeves is available to suit all types of machines, the most popular being KEK, AZO GERICKE, POWTEK, RUSSEL TURBO, RUSSEL WET SEPARATOR (fines saver) BUHLER and many others. Meshes can range from 5 microns to 5 mm. in nylon, polyester, polypropylene, PEEK, ETFE, silk and stainless steels.
For the food industry a range of blue nylon is used and for pharmaceuticals, tablet polishing sleeves are made.
Special grater / grinder cylinders are supplied for granulating.
For specials, prototypes and ideas, specimens can be made fron sketches, drawings or samples quite quickly.
Downloads are available on downloads