Perforated Sheet & plate
PlastOk supply perforated sheet, usually ex stock. Materials are usually stainless steel SS 304 and 316, but we can also supply copper, brass and more exotic metals, subject to availability. Most can be made to order.
Perforated sheet is usually made in panels 2 x 1 and 1.25 x 2.5 metres.
We can supply perforated sheets specially punched to a specific size, including margins, if needed, or guillotined from stock sheets.
Holes can be circular ( standard ), square, or to artistic patterns, for architectural applications.
( over 6 mm thick, it is referred to as 'plate' )

Samples
If you are unfamiliar with perforated sheet, we can send a small sample of you to examine.
If you need to carry out small scale trials with your product ( either fluids or powders) we can send you a larger piece. ( subject to availability )
We will advise on the best way of performing the tests, and of course, safely.

Fabrications
Perforated sheet is a stiff and durable material, ideal for filter-plates, filter-baskets, screens and filter-elements, and as a support for woven wire meshes and filter cloths.
See our fabrication page for details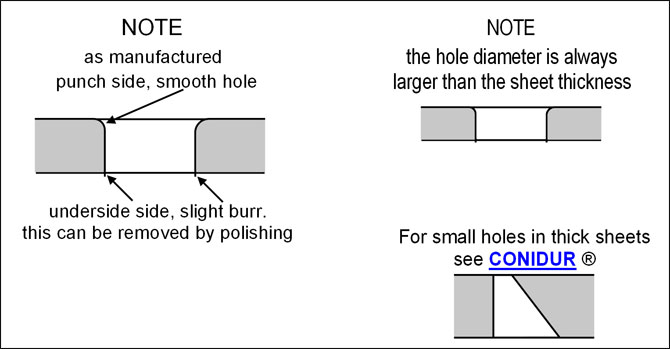 Other sizes available on request
Downloads are available on downloads