Screens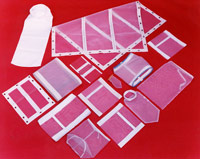 Suitable for machines like ROTEX, NIAGRA, RUSSELL, BOULTON, SWECO ALGIER, BM&M. Coarse and fine mesh screens from 5 mm. to 10 microns are supplied in polyester and nylon. Polypropylene, silk and PEEK are available in a more limited range.
TAPED SCREENS
Rectangular screens, often with wooded frames, have taped edges to accommodate staples used to retain tension. For circular screens a suitable stretch tape is used which can incorporate a draw string to ensure tension is maintained whilst tightening the outer band clamp. This also makes remeshing considerably easier than flat felt edging.
EYELETED SCREENS
Normally rectangular with brass or stainless steel eyelets fitted on edging tape of cotton/nylon or polyester. Cotton is preferred because it allows some degree of stretch for correct tensioning.
Downloads are available on downloads