Conidur® fine hole sheet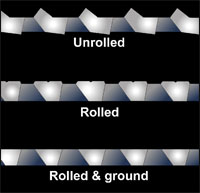 CONIDUR® Fluid bed sheet is manufactured with the hole pitch and advance adjusted to the exact product and process requirements. Fluid bed sheets are supplied with the sheet orientations arranged to give the correct agitation and circulation.
To ensure correct operation, detailed tests can be carried out on your product. The CONIDUR® sheets can then be manufactured, and mounted on support frames, if required, to fit your fluid bed machine.
Oblique, conical perforations
Resistant to blinding
Stainless steel, mild steel & various alloys
Directional air flow
Fluidisation, grinding & filtration
Small holes in relatively thick sheets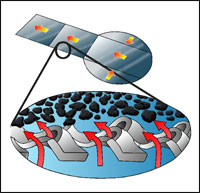 The conical holes are resistant to clogging, and when ground and polished, the release properties prevent sticking, ideal for flushing, back-washing and self-cleaning filters.
GRINDING & MILLING
Due to the unique surface properties CONIDUR® is especially suited to grinding and milling applications, as used in pharmaceutical, chemical, food and wood processing industries.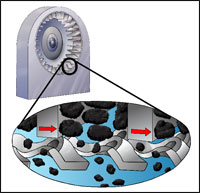 PlastOk are sole UK agents for CONIDUR®
the trademark for Hein Lehmann, Germany.
For more information ask for full illustrated brochures.
Downloads are available on downloads