Fly Screen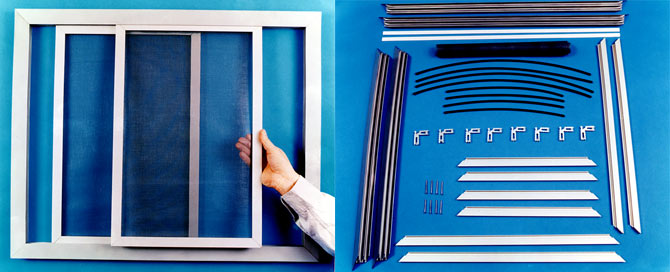 These are available as a complete window to suit customer's existing frame size or application. Meshes used include PVC /glass fibre, nylon, polythene, aluminium and stainless steel. Flyscreen windows can be supplied in kit form, which are easy to assemble and fit. This gives you the opportunity to fit and repair flyscreen windows on-site. The flyscreen system is designed for use on windows in food preparation areas, food storage, canteens and other places where food must be protected from flies and insect infestation.
A flyscreen will help protect your food areas from contamination, helping to prevent costly customer complaints and infringements of environmental health and hygiene regulations. The flyscreen system can be supplied with hinges if required.
HINGED FRAME KIT
PlastOk supply the hinged frame mostly as a kit in form so it is easy for you to fit or repair flyscreen windows on site.
A flyscreen hinged set consists of two horizontal and two vertical sections, for corner cleats with plastic plugs, two lift-off hinges with screws, two turn catches with screws, one length of grouting strip, and grouting tool and one piece of PVC / glass mesh screen-cloth. On bigger sizes there is usually a supporting cross brace. Kit dimensions are measured overall.
These are sent with clear and easy to understand instructions on how to assemble the frame.
The flyscreen system is used for fitting on the inside or outside of the window. Both frames and corner cleats are made from strong aluminium section, with washable PVC glass mesh for a hygienic and non-inflammable barrier to insects. In the event of accidental damage to your flyscreen, extra mesh for refitting may be ordered separately.
For fitting to uneven surfaces sealing strip may be ordered from your local DIY store or direct from us.
In the event of damage, extra mesh may be ordered separately.