Metal Mesh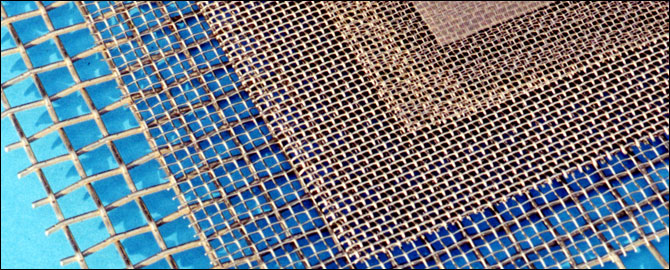 Woven Wire Mesh
Plastok supply a variety of metal meshes, the bulk of our stock is stainless steel woven mesh but we can also supply mild steel woven mesh, copper mesh, brass mesh, aluminium mesh and more exotic meshes such as phosphorus bronze mesh.
Our stainless steel woven mesh can be supplied in different grades, 304, 316 and 430. The mesh rolls are available in various widths of 1 metre , 1.22 metres, 1.5 metres and 2 metres, approximately equivalent to 3 ft, 4 ft, 5 ft and 6ft.
We can supply mesh cut from the roll or full rolls.
We can supply mesh panels (usually for the larger apertures) made to the size you require.
Finer meshes can be cut to size, or supplied by the metre at the width desired.
Woven wire mesh is a strong, durable, versatile and adaptable material, which can be used in many applications. such as sieving, straining and filtering particles.
 Different types of mesh weave
Mesh is woven in different weaves, the most common are plain weave, twill weave and dutch weave.
This is a diagram showing the different weave patterns:

 How to measure and cut mesh
Scissors will cut fine meshes, tin snips will cut larger meshes.
WARNING : the cut edges can be sharp, take care!
View our available mesh sizes here.